Description
Product Information
Product Name: Anti- Plant Actin Mouse Monoclonal Antibody (3T3)
Applications: WB
Isotype: Mouse IgG1
Reactivity: Arabidopsis, Nicotiana tabacum, Oryza sativa, Hordeum vulgare and other plants
Formulation: Liquid
Size: 50ul /200ul/1ml
Storage: Store at -20°C. Avoid repeated freeze / thaw cycles.
Note: Contain sodium azide.
Background: Actin is a highly conserved protein and an essential component of cell cytoskeleton and plays an important role in cytoplasmic streaming, cell shape determination, cell division, organelle movement and extension growth. Preferentially expressed in young and expanding tissues, floral organ primordia, developing seeds and emerging inflorescence.
Application Notes: Optimal working dilutions should be determined experimentally by the investigator. Suggested starting dilutions for WB is 1:1,000-1:5,000.

Storage Buffer: PBS, pH 7.4, containing 0.02% sodium azide as preservative and 50% glycerol as stabilizer.
Storage Instructions: Stable for one year at -20°C from date of shipment. For maximum recovery of product, centrifuge the original vial after thawing and prior to removing the cap. Aliquot to avoid repeated freezing and thawing.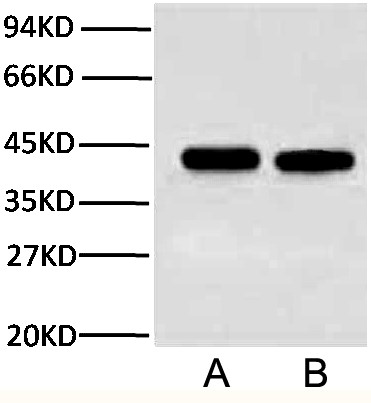 Fig. WB analysis (1:3,000) of plant Actin expression in Arabidopsis (line A) and Nicotiana tabacum (line B) with Anti-Plant Actin mouse monoclonal antibody (3T3).
Note: The product listed herein is for research use only and is not intended for use in human or clinical diagnosis. Suggested applications of our products are not recommendations to use our products in violation of any patent or as a license. We cannot be responsible for patent infringements or other violations that may occur with the use of this product.