Description
E.coli RuvB protein forms a complex with RuvA protein and the complex promotes branch migration of Holliday junction at the late stage of homologous recombination and recombination repair. RuvB is a DNA motor protein which possesses the ATPase activity, activated by DNA and RuvA protein (1, 2). Its molecular weight is 37kD.
Applications
Western blot x 3,000 dilution (Fig.1)
Other applications have not been tested.
Specification
Immunogen: Purified full-size recombinant RuvB protein (Ref. 2)
Form: Antiserum with 0.05% sodium azide
Storage: 4°C for short term or -80°C for long term storage
Data Link
UniProtKB/Swiss-Prot P0A812 (RUVB_ECOLI)
References
Shinagawa H and Iwasaki H (1996) "Processing the holliday junction in homologous recombination"
Trends Biochem Sci 21:107-111 PMID: 8882584
Iwasaki H et al (1992) "Escherichia coli RuvA and RuvB proteins specifically interact with Holliday
junctions and promote branch migration" Genes Dev 6:2214-2220 PMID: 1427081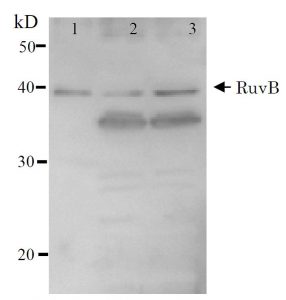 Fig.1 Detection of RuvB (37kD) protein by Western blot using this antibody
Lane 1: RuvB protein 5ng
Lane 2: E. coli AB1157 crude extract
Lane 3: E. coli AB1157 lexA mutant crude extract
Expression of RuvB is enhanced by lexA mutation.