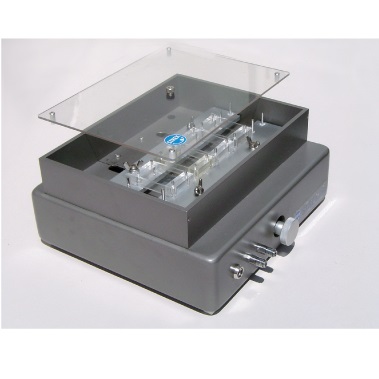 Cell Stretching Systems
ShellPa Mechanical Cell Strain Instrument from Menicon Life Science
The mechanical stresses are closely related to cell proliferation and differentiation or tissue degeneration and development. Additionally, disease processes such as osteoporosis, cancer metastasis, skin disorders and muscle degeneration share a loss of tissue structure, integrity and mechanical transduction. ShellPa, the mechanical cell stretch system from Menicon Life Science, is an instrument for cell culturing that has been developed to replicate a dynamic environment inside the human body. This system is pneumatically driven by an air compressor. It is expected that cell culturing under the mechanical stress provided by this system can bring more biologically and physiologically realistic cell responses compared to a conventional static cell culturing without mechanical stress.
Features:
The stretch frequency and stretch ratio (stretch pattern) are easily controllable.
Stretch chambers are made with silicone (polydimethylsiloxane, or PDMS) and can be used with this system after being coated (e.g. fibronectin).
Lightweight and compact
Fits in standard laboratory incubator
Stretch frequency: 1-120 cycle(s)/min
Stretch ratio: 2, 4, 5, 6, 8, 10, 12, 15 and 20%
Use up to 6 stretch chamber simultaneously
Removable stretch chambers holder
Controller clearly indicates the accumulated operation time
Download : Brochure for ShellPa System
Recent publications:
Grave, K., et al. "ANGIOTENSIN-(1-7) IMPROVES ENDOTHELIAL FUNCTION AND THE DEVELOPMENT OF ATHEROSCLEROSIS THROUGH THE MAS RECEPTOR."Journal of Hypertension 34 (2016): e24.
Dalbeni, A., et al. "LYCOPENE INCREASES NITRIC OXIDE BIOAVAILABILITY AND INHIBITS ENDOTHELIAL CELLS MIGRATION."Journal of Hypertension 34 (2016): e24.
Gangoda, S. V. S., et al. "PULSATILE STRETCH ALTERS EXPRESSION AND PROCESSING OF AMYLOID PRECURSOR PROTEIN IN HUMAN CEREBRAL ENDOTHELIAL CELLS."Journal of Hypertension 34 (2016): e24.
Urbanski, K., et al. "PERIVASCULAR T REGULATORY CELLS AND ENDOTHELIAL DYSFUNCTION IN HUMAN ATHEROSCLEROSIS."Journal of Hypertension 34 (2016): e24-e25.
Thal, Serge C., and Winfried Neuhaus. "The blood–brain barrier as a target in traumatic brain injury treatment."Archives of medical research 8 (2014): 698-710.
ShellPa Cell Strain Products:
STREX Mechanical Cell Strain Instruments
STREX high-performance mechanical cell strain instruments and cell culture chambers allow researchers to explore the impact of mechanical cell strain on cells in culture. Mechanical stress applied to the cells better simulates a natural dynamic physiological environment.
Use STREX to investigate:
Bone, muscle, cartilage, ligaments & tendons
Cardiovascular system
Cell adhesion, division, growth & cytoskeletal rearrangement
Stem cell proliferation & differentiation
Benchtop Stretch Instruments
Automated instruments designed to hold multiple strain chambers with precise uniaxial mechanical strain. The robust and easy to use design ensures that cells grow over long periods of time with regular cyclic stretching. These units allow you to control the frequency and degree of the strain to produce 64 unique strain settings.
Specifications
Stretch multiple chambers simultaneously
Chamber size 4 cm2 (STB-140-04) or 10 cm2 (STB-140-10)
Unidirectional stretch patterns
Instrument includes standard patterns or design custom patterns
64 combinations of stretch patterns
Stretch cells for hours or days
Fits in standard incubator
Easy and intuitive to use!
What video: https://youtu.be/8RgYH2DVJj4
Download the STREX Brochure
Control Unit (left) and Stretch Unit (right)
Recent publications
Tanaka, Toru, et al. "Cyclic mechanical stretch-induced oxidative stress occurs via a NOX-dependent mechanism in type II alveolar epithelial cells."Respiratory Physiology & Neurobiology 242 (2017): 108-116.
Inaba, Nao, et al. "Cyclic mechanical stretch contributes to network development of osteocyte-like cells with morphological change and autophagy promotion but without preferential cell alignment in rat."Biochemistry and Biophysics Reports (2017).
Furumatsu, Takayuki, and Toshifumi Ozaki. "An Analysis of Pathological Activities of CCN Proteins in Joint Disorders: Mechanical Stretch-Mediated CCN2 Expression in Cultured Meniscus Cells."CCN Proteins: Methods and Protocols (2017): 533-542.
Morita, Yasuyuki, et al. "Evaluation of Precise Optimal Cyclic Strain for Tenogenic Differentiation of MSCs."Mechanics of Biological Systems and Materials. Springer International Publishing, 2017, 6: 149-155.
Chang, Maolin, et al. "MicroRNA‐195‐5p Regulates Osteogenic Differentiation of Periodontal Ligament Cells Under Mechanical Loading."Journal of Cellular Physiology (2017).
Zhang, Qi, et al. "A-Raf and C-Raf differentially regulate mechanobiological response of osteoblasts to guide mechanical stress-induced differentiation."Biochemical and biophysical research communications 4 (2016): 438-444.
Matsui, H. "Identification of MAP3K of ERK pathway activated by low-magnitude of mechanical stress in osteoblasts." (2016).
Kushida, Nobuhiro, et al. "Uni-axial stretch induces actin stress fiber reorganization and activates c-Jun NH 2 terminal kinase via RhoA and Rho kinase in human bladder smooth muscle cells."BMC urology 1 (2016): 9.
Microscope-mounted Stretch Instruments
Ideal for real time observations of cells undergoing mechanical strain. Computer controlled microprocessor for precise and accurate stretching. The intuitive, easy to use design allows you to focus on your experiments rather than the assembly and operation of the instrument.
 Specifications
Stretch single chamber unidirectionally (STB-150) or bidirectionally (STB-190-XY)
Chamber size 4 cm2
STB-150 has standard stretch programs or custom design your own
Design your own stretch programs for the STB-190-XY
Compatible with Nikon, Olympus, Leica, and Zeiss microscopes
Easy to Use design. No assembly required!
Watch Video: https://youtu.be/LiVoqqxz_xs
Download the STREX Brochure
HPMVECs cultured and stretched using an ST-150. Images show changes in fura-2 fluorescence signal (F340/F380 ratio), an index of intracellular calcium concentration. Satoru Ito, et al. (2010)
Recent publications
Kira, S. et al.P2Y 6-deficiency increases micturition frequency and attenuates sustained contractility of the urinary bladder in mice. Scientific Reports, 2017, 7(1), 771.
Shimizu, Takeshi, et al. "YAP functions as a mechanotransducer in oligodendrocyte morphogenesis and maturation."Glia 2 (2017): 360-374.
Lau, Eva On-Chai, et al. "Aortic baroreceptors display higher mechanosensitivity than carotid baroreceptors."Frontiers in Physiology 7 (2016).
Chang, Ya-Ju, et al. "Cyclic stretch facilitates myogenesis in C2C12 myoblasts and rescues thiazolidinedione-inhibited myotube formation."Frontiers in bioengineering and biotechnology 4 (2016).
Qi, Yan, et al. "Uniaxial cyclic stretch stimulates TRPV4 to induce realignment of human embryonic stem cell-derived cardiomyocytes."Journal of molecular and cellular cardiology 87 (2015): 65-73.
Nakai, Naoya,et al. "Mechanical stretch activates mammalian target of rapamycin and AMP-activated protein kinase pathways in skeletal muscle cells."Molecular and cellular biochemistry 1-2 (2015): 285-292.
STREX Product List
| | | |
| --- | --- | --- |
| Cat. # | Product Name | Size |
| STB-CH-10 | Stretch chamber 10 cm2 | 5 pack |
| STB-CH-04 | Stretch chamber 4 cm2 | 10 pack |
| STB-CH-4W | Stretch chamber 10 cm2 with 4-wells | 5 pack |
| STB-CH-04-XY | Stretch chamber 4 XY cm2 | 5 pack |
| STB-CH-0.06 | Stretch chamber for ligaments and tendons | 1 chamber |
| STB-CH-1.5 | Stretch chamber for ligaments and tendons | 1 chamber |
| STB-CH4-G | Stretch chamber for 3D cell culture | 1 chamber |
| STB-CH-3.5GS | Stretch chamber for 3D cell culture | 1 chamber |
| STB-CH-0.02 | Stretch chamber 0.02 cm2 | 1 chamber |
| STB-CH4-GP | Stretch chamber for 3D cell culture | 1 chamber |
| STB-CH-10ST | Metal Stand for stretch chamber 10 cm2 | 1 unit |
| STB-CH-04ST | Metal Stand for stretch chamber 4 cm2 | 1 unit |
| STB-10-04 | STREX Mechanical Cell Strain Manual Stretcher, unidirectional stretch | 1 unit |
| STB-10-10 | STREX Mechanical Cell Strain Manual Stretcher, unidirectional stretch | 1 unit |
| STB-140-04 | STREX Mechanical Cell Strain Instrument, unidirectional stretch, multiple chambers | Unit and Controller |
| STB-140-10 | STREX Mechanical Cell Strain Instrument, unidirectional stretch, multiple chambers | Unit and Controller |
| STB-150 | STREX Mechanical Cell Strain Instrument, unidirectional, microscope mountable | Unit and Controller |
| STB-190-XY | STREX Mechanical Cell Strain Instrument, Microscope-mountable, uni/bidirectional stretch | Unit and Controller |