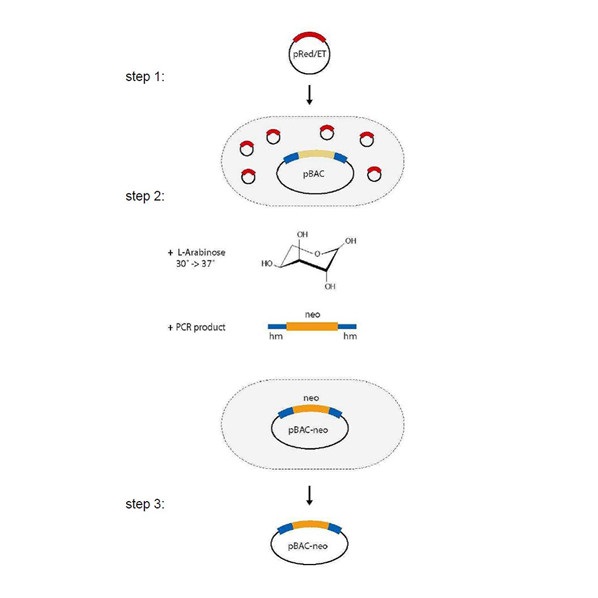 Are you tired of finding restriction sites? AS ONE INTERNATIONAL provides high quality and easy-to-use kits and reagents for cloning, sub-cloning, generating transgenic animals, and manipulating DNA constructs. Particularly, Red/ET Recombineering offers unprecedented freedom in gene cloning. It gives you the powerful tools to clone, subclone, and modify DNA at any chosen position. These Red/ET Kits, Selection Cassettes, and Recombinase Plasmids permit precise engineering of DNA molecules of any size, including very large ones such as BACs or the E. coli chromosomes.
Red/ET Quick & Easy BAC Modification Kit (Cat.# K001)
This kit is designed to modify BACs with the revolutionary Red/ET Recombination technology – a powerful tool for introducing modifications such as insertions and deletions into any type of BAC within 2 weeks. Red/ET Recombination uses in vivo recombination and proofreading activity to minimize unwanted mutations in your construct.a
Step 1: The E. coli strain carrying the BAC, which is to be modified, is transformed with the expression plasmid pRedET.
Step 2: The expression of genes mediating Red/ET is induced by the addition of Larabinose and a temperature shift from 30C to 37C. After induction the cells are prepared for electroporation and the linear Tn5-neo cassette (PCR product) flanked by homology arms is electroporated. Red/ET recombination inserts the functional cassette into the target locus. Only colonies carrying the modified BAC will survive Kanamycin selection on the agar plates.
Step 3: The successful integration of the selection cassette will be monitored by PCR or DNA mini preparation.

Red/ET Counter Selection BAC Modification Kit (Cat. # K002)
This is a new version of counter-selection cassette pRpsL-neo for the Red/ET Recombination system. The kit combines the high Red/ET efficiency plus convenient removal of the Red/ET Recombination protein expression plasmid pRedET after recombination. It also has the following features:
Based on streptomycin selection
Modify bacterial artificial chromosomes (BACs) within 2-3 weeks by using a counter-selection cassette
pRpsL-neo counter-selection cassette shows much higher efficiency than pSacB-neo
Compatible with bacterial chromosomes and common ColE1 origin plasmids
Red/ET Kits
| | |
| --- | --- |
| Cat # | Name |
| K001 | Red/ET Quick & Easy BAC Modification Kit (need license to buy) |
| K002 | Red/ET Counter Selection BAC Modification Kit (need license to buy) |
| K003 | Red/ET BAC Subcloning Kit (need license to buy) |
| K004 | Quick & Easy Red/ET Conditional Knock Out Kit – FRT (need license to buy) |
| K005 | Quick & Easy Red/ET Conditional Knock Out Kit – loxP (need license to buy) |
| K006 | Quick & Easy Red/ET E. coli Gene Deletion Kit (need license to buy) |
| K008 | Direct-cloning-proficient E. coli strain GB05-dir (need license to buy) |
| K009 | Recombineering-proficient E. coli strain GB08-red (need license to buy) |
Selection Cassettes
| | |
| --- | --- |
| Cat # | Name |
| A001 | Red/ET Neomycin Selection Cassette, Prokaryotic and Eukaryotic (PGK-gb2-neo) |
| A002 | Red/ET Neomycin Selection Cassette, FRT-flanked, Prokaryotic and Eukaryotic (FRT-PGK-gb2-neo-FRT) |
| A003 | Red/ET Neomycin Selection Cassette, loxP-flanked, Prokaryotic and Eukaryotic (loxP-PGK-gb2-neo-loxP) |
| A004 | Red/ET Neomycin Selection Cassette plus loxP site, FRT flanked, Prokaryotic and Eukaryotic (FRT-PGK-gb2-neo-FRT-loxP) |
| A005 | Red/ET Neomycin Selection Cassette plus loxP site 2nd version, FRT flanked, Prokaryotic and Eukaryotic (loxP-FRT-PGK-gb2-neo-FRT) |
| A006 | Red/ET Chloramphenicol Selection Cassette, FRT-flanked (FRT-cm-FRT) |
| A007 | Red/ET Chloramphenicol Selection Cassette, loxP-flanked (loxP-cm-loxP) |
| A008 | Red/ET Ampicillin Selection Cassette, FRT-flanked (FRT-amp-FRT) |
| A009 | Red/ET Ampicillin Selection Cassette, loxP flanked (loxP-amp-loxP) |
| A010 | Red/ET Hygromycin Selection Cassette, FRT-flanked, Prokaryotic and Eukaryotic (FRT-PGK-gb2-hygro-FRT) |
| A011 | Red/ET Hygromycin Selection Cassette, loxP-flanked, Prokaryotic and Eukaryotic (loxP-PGK-gb2-hygro-loxP) |
| A012 | iCre-FRT-neo-FRT (codon improved Cre) with attached FRT flanked, Pro- and Eukaryotic Neomycin selection cassette |
| A013 | iCreERT2-FRT-neo-FRT (Ligand-inducible iCre with attached FRT flanked, Pro- and Eukaryotic Neomycin Selection Cassette) |
Recombinase Plasmids
| | |
| --- | --- |
| Cat # | Name |
| A104 | Red/ET Enhanced Flp Expression Plasmid:707-FLPe, tet-selection |
| A105 | Red/ET Enhanced Flp Expression Plasmid:708-FLPe, cm-selection |
| A106 | Enhanced Flp Expression Plasmid:709-FLPe, amp |
| A107 | Enhanced Flp Expression Plasmid:710-FLPe, km |
| A112 | Red/ET Cre Expression Plasmid:705-Cre, cm-selection |
| A113 | Red/ET Cre Expression Plasmid:706-Cre, tet-selection |
| A114 | Cre expression plasmid with ampicillin resistance marker |
| A201 | Red/ET Enhanced Eukaryotic FLP Expression Plasmid: pCAGGS-FLPe (Academic price, requires MTA) |
| A202 | Red/ET Enhanced Eukaryotic FLP Expression Plasmid: pCAGGS-FLPe (Industry price, requires MTA) |
| A203 | Eukaryotic FLPo Recombinase Expression Plasmid: pCAGGS-FLPo (Academic price, requires limited use license) |
| A204 | Eukaryotic Cre Recombinase Expression Plasmid: pCAGGS-Cre (Academic Price) |
| A205 | Eukaryotic Dre Recombinase Expression Plasmid:CAGGS-Dre (Academic price, requires limited use license) |
| A301 | Arabinose Inducible Prokaryotic Cre Recombinase Expression Plasmid: pSC101-BAD-Cre |
| A302 | Arabinose Inducible Prokaryotic Dre Recombinase Expression Plasmid: pSC101-BAD-Dre (Requires limited use license) |
| A303 | Arabinose-inducible Prokaryotic FLPe Recombinase Expression Plasmid: pSC101-BAD-FLPe (tet) |