Description
Background:
cerevisiae Rad 51 protein (400 aa, 43 kDa) is a functional and structural homolog of E. coli RecA and human Rad51 proteins and plays a central role in DNA homologous recombination and recombination repair by promoting homologous DNA strand exchange reaction. Dmcl, Rad55, Rad57 are paralogs of Rad51 and they form complex with Rad51 and Rad52 in mediating recombination processes.
Specifications:   
Reactivity: S.cervisiae Rad 51 protein. The specificity was confirmed with rad51 mutant by WB (Fig.1)
Immunogen: Recombinant His-tagged Sc Rad51 protein (full-size)
Form: Whole antiserum added with 0.09 % sodium azide
Storage:  Sent at 4℃ and store at -20℃
Applications:
Western blotting (1/1,000~1/10,000 dilution) (Fig. 1, 2)
Chromatin Immunoprecipitaiton
Immunoflorescence staining
Data Link SGD RAD51/YER095W  UniProtKB/Swiss-Prot: P25454 RAD51 – Saccharomyces cerevisiae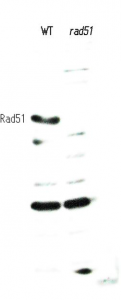 Fig.1 Western blotting of the crude cell extract of S. cerevisiae wild-type strain (left lane) and Rad51 deletion mutant (right lane)
The antibody was used at 1/1,000 dilution.

Fig.2 Identification of Rad51 protein in crude extract of S, cerevisiae strain BY4741.
Proteins in the extract were separated on 12.5% SDS-PAGE and transferred to membrane in wet system. The antibody was used at 1/1,000 dilution. As 2nd antibody, HRP conjugated goat anti-rabbit IgG antibody was used at 1/10,000 dilution.
References: This antibody was used in the following publication.
Ribeyre C,Shore D. (2012) Anticheckpoint pathways at telomeres Nat Struct Mol Biol. 19 : 307-13 PMID 22343724 ChIP (S. cerevisiae)