Description
Ada2 functions as component of the transcription regulatory histone acetylation (HAT) complexes SAGA, SALSA and ADA. SAGA is involved in RNA polymerase II-dependent transcriptional regulation of approximately 10% of yeast genes. At the promoters, SAGA is required for recruitment of the basal transcription machinery. It influences RNA polymerase II transcriptional activity through different activities such as TBP interaction (SPT3, SPT8 and SPT20) and promoter selectivity, interaction with transcription activators (GCN5, ADA2, ADA3 and TRA1), and chromatin modification through histone acetylation (GCN5) and deubiquitination (UBP8).
Ada2 consists of 434 amino acids with molecular mass of 50,569 Da.
Applications
Western blot 1:500-1,000 dilution
Not tested for other applications.
Specifications
Immunogen: Recombinant His-tagged Ada2 protein produced in E. coli
Reactivity: S. cerevisiae Ada2 protein. Not tested with other species
Form: Whole antiserum added with 0.1% sodium azide
Shipped at 4°C and stored at -20°C
Data Link
UniProt Q02336 (ADA2_YEAST), SGD S000001511 TFA1/ YKL028W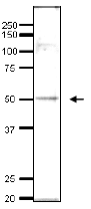 Figure 1. Detection of endogenous Ada2 in whole cell extract of S. cerevisiae by Western blot, using the anti-Ada2 antibody. The antibody was used at 1/500 dilution. As second antibody, HRP-conjugated goat anti-rabbit IgG was used at 1/10,000.