Description
Schizosaccharomyces pombe Dis2 is a serine/threonine protein phosphatase which is highly similar to mammalian type 1 phosphatase (PP1). Protein phosphatases are known to play critical roles in cell cycle regulation in fission yeast. Fission yeast has two type 1 protein phosphatases, Dis 2 and Sds21. They are 37 kDa proteins and their amino acid sequences are 80% identical to each other and to mammalian PP1 homologs. Dis 2 and Sds21 are necessary for mitotic chromosome disjunction and have overlapping functions. Their disruptants are lethal only when both genes are disrupted. Dis2 is known to be enriched in nuclei.
Applications
Immunoblot (dilution: 1/300~1/1000)
Immunoprecipitation
Specification
Immunogen: Recombinant S. pombe full-length Dis2 (Ref. 1)
Specificity: Specific to Dis2 and does not cross-react with Sds21
Form: Rabbit antiserum with 0.05 % sodium azide
Storage: Shipped at 4°C and long term storage -20°C
Data Link:
Swiss-Prot P13681
References: This antibody has been used in Ref. 1, 2 and 3.
Stone EM et al. "Mitotic regulation of protein phosphatases by the fission yeast sds22 protein." Curr Biol 3: 13-26 (1993) PMID: 15335873
Yamano H et al. "Phosphorylation of dis2 protein phosphatase at the C-terminal cdc2 consensus and its potential role in cell cycle regulation." EMBO J. 13:5310-5318 (1994) PMID: 7957097
Ishii K et al. "Requirement for PP1 phosphatase and 20S cyclosome/APC for the onset of anaphase is lessened by the dosage increase of a novel gene sds23 ." EMBO J. 15:6629-6640 (1996)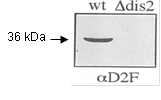 Fig.1  Immunoblot of wild-type and dis2 S. pombe cells using anti-dis2 antibody, D2F (ref.3).
wt: wild type dis2: dis2 deletion mutant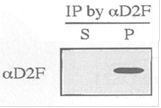 Fig. 2 Immunoprecipitation of wild-type S. pombe extracts was performed using anti-dis2 antibody, D2F (ref.3). Resulting immunoblot immunoprecipitate (P) and supernatant (S) used anti-dis2 antibody.