Description
Description
HIV-1 reverse transcriptase is an RNA-dependent DNA polymerase of HIV-1(AIDS virus), subtype B origin (1). It also has RNaseH activity and is an enzyme indispensable to the reproduction of AIDS virus.
The product is prepared by immunizing rabbit with HIV-1 reverse transcriptase which was uniquely over-overexpressed as recombinant protein in E. coli by a patent method and highly purified (2).
Using this antiserum in Western blotting, the bands of 66 kD and 51 kD corresponding respectively to the two subunits of HIV-1 reverse transcriptase were observed in the extract of the HIV infected infected cells (Fig 1).
Applications
It can be used in Western blotting or ELISA for HIV-1 reverse transcriptase detection and titration.
Specification
Form: 0.09% sodium azide added to the antiserum.
Storage: Shipped at 4°C or -20°C, upon arrival aliquot and store at -20°C
Reference
Adachi A, et al., J. Virol. 59, 284 (1986)
Saitoh A, et al., Microbiol. Immunol. 34:509-521 (1990)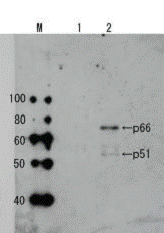 Fig. 1: Detection of HIV-1 reverse transcriptase by Western blotting using anti-HIV-1 reverse transcriptase antibody.
           Lane 1, extract of MT4 cells.
Lane 2, extract of MT4 cells infected with HIV-1 (LAI strain). The antiserum was diluted 2500 fold before use.