Description
Background:
Necdin (neurally differentiated embryonal carcinoma-derived protein) is a 325-amino acid residue protein encoded by a cDNA clone isolated from neurally differentiated mouse embryonal carcinoma cells (ref.1). Necdin is a potent growth suppressor that is expressed predominantly in postmitotic cells such as neurons and muscle cells. Necdin has been implicated in the pathogenesis of Prader-Willi syndrome, a human neurodevelopmental disorder associated with genomic imprinting. Furthermore, necdin binds to major transcription factors E2F1 and p53, and also to NEFA and nucleobindin, both of which are calcium-binding proteins involved in intracellular calcium homeostasis. From these findings necdin is suggested to target various factors involved in the regulation of cell proliferation and survival, and plays a key role in development and differentiation of subsets of neurons in the brain. An antibody (named NC243) against mouse necdin was raised in rabbit (ref.1) in the laboratory of Prof. K. Yoshikawa at Osaka Univ.
Specifications: 
Reactivity: React with mouse, rat, human, chicken
Immunogen: Recombinant GST-fused mouse necdin (aa 83-325)
Form: Protein A affinity purified IgG. 1 mg/ml in PBS, 50% glycerol. Filter-sterilized. No additive.
Validation of specific reactivity: Specificity of reaction has been validated with knock-out mice by western blot and IHC-F
Storage: Ship at 4℃ and store at -20℃. (No not store below -20℃)
Applications:
Western blotting (1/1,000-1/3,000)
Immunohistochemistry、frozen section (1/500)
Immunocytochemistry (1/500)
Immunoprecipitation (1/100)
Chromatin Immunoprecipitation (1/100)
Immunoaffinity assay (Identification of Necdin interacting proteins by column conjugated with anti-Necdin antibody)
Data Link: Swiss-Prot P25233 (mouse), Q99608 (human)

Fig.1.Western blotting of Necdin in the crude extract of mouse embryo.
The extract (20 μg protein)) was prepared from cerebral cortex of E 16.5 mouse embryo. The anti-Necdin antibody (NC143) was used at 1/3,000 dilution. Molecular mass of mouse Necdin is 37 kDa. The larger size reported here and elsewhere (see Ref) may reflect post-translational modifications such as ubiquitination and phosphorylation at several sites (Swiss-Prot)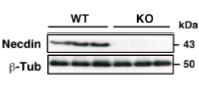 Fig.2 Validation of the anti-necdin antibody with knock-out mice.
Proteins in forebrain lysates from wild-type and necdin knock-out mouse embryos at E14.5 were analyzed by Western blotting. Each lane represents the extract from one littermate. Protein levels were normalized to β-tublin.  (Image from Minamido R et al. PLoS One. 9 (1) PMID: 24392139.)

Fig.3 Immunoprecipitation of necdin
HEK293A cells were transfected with expression vectors for necdin (+). Cell lysates were immunoprecipitated and immunoblotted with anti-necdin antibody. HEK293A cell lysate (-) is a negative control. (Image from Minamido R et al. PLoS One. 9 (1) PMID: 24392139)

Fig 4. Immunofluorescence staining of necdin.  Expression of necdin, and nestin in primary neural precursor cells (NPCs) from mouse neocortex. Primary NPCs were prepared from the neocortex at E14.5 and subjected to double-immunostaining for necdin and nestin. DNA was stained with Hoechst 33342. Necdin was immunostained with anti-necdin antibody (NC243) and Nestin with anti-nestin antibody (ST1; Cat.# 73-105)  (Images from Minamido R et al. PLoS One. 9 (1) PMID: 24392139.)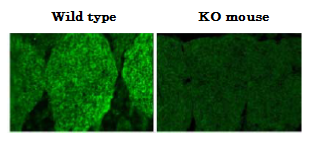 Fig.5 Immunohistochemistry of necdin: Validation of anti-necdin antibody (NC243) with KO-mouse.
Cryosections were prepared from wild-type (WT) and necdin-null (KO) mice at E14.5 and immunostained for necdin. Antibody was used at 1/500 dilution.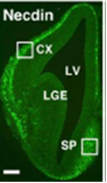 Fig.6 Immunohistochemical staining of necdin in mouse forebrain.
E13.5 forebrain cryosections were immunostained for necdin.
CX, Cortex; LV, lateral ventricle; LGE, lateral ganglionic eminence; SP, septum. The antibody was used at 1/500 dilution.