Description
Rad22 protein of Schizosaccharomyces pombe (469 aa, 52 kDa) is a functional and structural homolog of S. cerevisiae and human Rad52 proteins, which play a major role together with Rhp51  in genetic recombination and recombination repair by mediating strand annealing reaction between homologous DNA strands.
Applications
Western blot (x 2,000~5,000 dilution)
Immunoprecipitation
Immunofluorescence Staining
ELISA
Specification
Immunogen: Recombinant full-size Rad22 protein of S. pombe expressed in E. coli.
Purification: Affinity-purified with highly purified Rad22 protein conjugated with agarose beads.
Form: 1 mg/ml in PBS with 50% Glycerol, filter-sterilized
Storage: Ship at 4°C or -20°C and store at -20°C
Reference
1.Lehmann AR "Molecular biology of DNA repair in the
fission yeast Schizosaccharomyces pombe." Mutation
Res 363:147-161 Review (1996) PMID: 8765156

Fig.1 Western blot analysis of Rad22 in the whole cell extracts with affinity-purified antibody. M: Molecular weight markers (kD)
Lane 1:Protein size markers (kDa) Lane 2: Extract of wild-type S. pombe. ** indicates Rad22 protein band.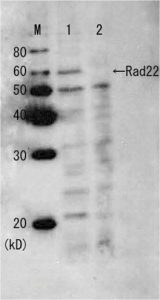 Fig.2. Western blot analysis of Rad22 protein in the whole cell extracts with anti-Rad22 serum before affinity purification. M: Molecular weight markers (kD). Lane1: Wild-type strain
Lane2: Rad22 deletion mutant strain