Description
Background:
coli RuvA protein binds specifically to the Holliday structure which is the intermediate of recombination at the late stage of homologous recombination and recombination repair and forms a complex with RuvB motor protein allowing the migration of Holliday junction using ATP hydrolysis energy and expands the heteroduplex region. In solution, it forms a tetramer and binds to the cross-like DNA of the Holliday junction from below and above holding it in between (1, 2).
The molecular weight of the monomer is 22 kD.
Specifications:
Form: 50% glycerol, 10 mM Tris-HCl (pH7.5), 2 mM EDTA, 100 mM NaCl, 5 mM mercaptoethanol
Purity: RuvA protein over 90% by SDS-PAGE (CBB staining)
Concentration: 2.7 mg/ml (determined by BCA method)
Storage: Ship at 4℃ or -20℃. Spin-down and store at -20℃ or -80℃ for longer period.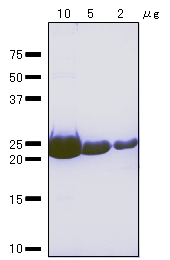 Figure SDS-Polyacrylamide gel electrophoresis of RuvA protein.
22.1 kDa
Applications
Functional as Holliday junction specific binding protein, which
promotes Holliday-junction branch migration in combination
with RuvB protein.
For SNP analysis (Genome Research 13:1754-1764 PMID: 12840050).
DataLink UniProtKB/Swiss-Prot P0A809 (RUVA_ECOL)
References: This protein has been used in the following publications
Han YW et al (2006) Direct observation of DNA rotation during branch migration of Holliday junction DNA by Escherichia coli RuvA-RuvB protein complex. Proc Natl Acad Sci U S A. 2006 Aug 1;103(31):11544-8. PMID: 16864792 Functional
Iwasaki H et al (1992) Escherichia coli RuvA and RuvB proteins specifically interact with Holliday junctions and promote branch migration. Genes Dev 6:2214-2220 PMID: 1427081 Functional
Related Products:
01-009 E.coli RuvB protein      01-011 E.coli RuvC protein  61-005 anti-RuvA antibody
61-007 anti-RuvB antibody, rabbit polyclonal     61-009 anti-RuvC antibody