Description
Ribonuclease H (RNase H) is an endoribonuclease which specifically degrades the RNA strand of an  RNA/DNA hybrid, leaving the DNA strand and unhybridized RNA intact. E. coli RNase H (RNaseHI) was over-expressed in E. coli as a recombinant protein and the protein then purified. MW is 17.6 kDa.
Applications
Removal of mRNA in DNA/RNA hybrid prior to the synthesis of the second strand of cDNA (1, 2)
Removal of poly (A) tails from mRNA after hybridization with oligo (dT) (3)
Oligodeoxyribonucleotide-directed site-specific cleavage of RNA (4)
Specification
Form: 50 units/ul in 20mM Tris-HCl (pH 7.5), 100mM KCl, 1mM DTT, 50% Glycerol
Specific Activity: 100,000 units/mg protein
Unit Definition: 1 unit is defined as the amount of the enzyme that hydrolyzes 1 nmol of the RNA in 3H labeled M13 DNA/RNA hybrid to acid-soluble ribonucleotides in 20 min at 37°C.
Storage: -20°C
Quality: Greater than 95% protein determined by SDS-PAGE (Fig. 1, CBB staining). Endo- and exo-DNase activities and RNase activity were not detected with 100 U/ml RNaseH in 50 ul reaction at 37°C.
Reagents Supplied with Enzyme: 10X RNaseH Reaction Buffer: 100 mM Tris-HCl (pH 8.0), 100 mM MgCl2, 500 mM NaCl, 10 mM DTT, 500 ug/ml BSA (Bovine Serum Albumin)
Caution: To avoid contamination of trace amounts of nucleic acids in BSA, use reaction buffer that
does not contain BSA and use RNaseH at higher concentrations.
Data Link: UniProtKB/Swiss-Prot P0A7Y4 (RNH_ECOLI)
References:
Gubler U (1987) "Second-strand cDNA synthesis: mRNA fragments as
primers." Method Enzymol 152: 330-335 PMID: 3309563
Sambrook J & Russell DW (2001) Molecular Cloning, Chapter 11
"Preparation of cDNA Libraries and Gene Identification". CSHL Press
Vournakis JN et al (1975) "Electrophoretic patterns of deadenylylated
chorion and globin mRNAs." Proc Natl Acad Sci USA 72: 2959-2963
PMID: 1059086
Donis-Keller H (1979) "Site specific enzymatic cleavage of RNA."
Nucleic Acids Res. 7: 179-192 PMID: 386279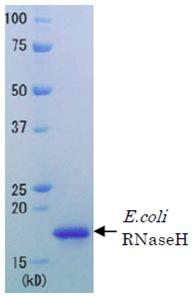 Fig.1 SDS-PAGE of E. coli RNaseH