Description
Background:
Streptolysin O (SLO) is a membrane-damaging extracellular toxin produced by hemolytic streptococci.  The membrane-damaging activity is measured by hemolysis of red-blood cells.  SLO is easily inactivated in the presence of oxygen but can be reactivated by thiol compounds, so it is also called thiol-activated cytolysin .  SLO is produced not only by Group A hemolytic streptococci but also by Group C and Group G strains.  The amino acid sequences are highly conserved among them and their homology is over 98%.
Specifications:
Product: Recombinant streptolysin O. Functional in membrane pore formation to introduce molecules into living animal cells. The product was highly purified from E.coli over-expressing SLO of Group C hemolytic streptococci (His6-tagged to the signal peptide removed N-terminal of SLO). The specific activity is as high as 1,200,000- 2,000,000 hemolytic units (HU) /mg (depending on Lot).
Measurement of the activity: Definition of 1HU is activation of 50% hemolysis by incubating 3% sheep red blood cells at 37℃ for 30 min.
Purity:  Over 98% by SDS-PAGE (see Fig.1)
Form: 1 mg/ml in PBS (-), 1 mM DTT, 50% glycerol, sterilized by filtration. No additive nor carrier protein. Inactivated SLO can be reactivated by thiol reagents such as 20 mM cysteine or 10 mM DTT (Palmer M "The family of thiol-activated, cholesterol-binding cytolysins." Toxicon  39: 1681-1689 (2001) PMID: 11595631 )
Storage: Shipp at 4℃ or -20℃, and store at -20℃ (For longer period, years, store at -80℃)
Applications
Antigen for the measurement of

anti-streptolysin

O antibody (ASO) (diagnostic reagent), ELISA

Western blotting, Dot blotting,

Immuno-chromatography

SDS-PAGE

Reagent for membrane pore formation to introduce small-to-macromolecules into living cells (For protocol

refer to or other references; Walev I et al "Delivery of proteins into living cells by reversible membrane permeabilization with streptolysin-O." PNAS 98: 3185-3190 (2001) PMID: 11248053)
Data Link: UniProtKB Q54114 ((TACY_STREQ)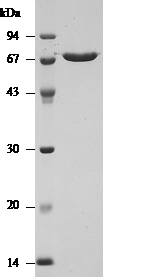 Fig. 1 Purified SLO analysed by SDS-PAGE.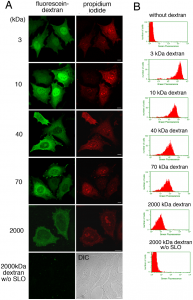 Fig.2 Introduction of fluorescein dextran of different molecular weights into resealed cells. A. HeLa cells were incubated with or without (2000 kDa dextran w/o SLO) 0.13 µg/ml SLO on ice for 5 min. After wash with PBS three times, the cells were further with transport buffer containing propidium iodide at 32°C for 5 min. Semi-intact HeLa cells were incubated with 1.5 mg/ml L5178Y cytosol, an ATP regenerating system, GTP, glucose, and 100 µg/ml fluorescein-dextran of 3, 10, 40, 70, or 2000 kDa at 32°C for 15 min, and then were resealed by treatment with 1 mM CaCl2 at 32°C for 5 min. After incubation with DMEM supplemented with FCS for 30 min, the cells were observed by confocal microscopy. Since the cells without SLO treatment did not contain the fluorescence of propidium iodide, differential interference contrast (DIC) image was shown. Bar = 10 µm. B. HeLa cells were treated as described in A, were trypsinized, and were subjected to flowcytometry. The histograms of fluorescein fluorescence of dextran with different molecular weight in PI-positive cells were shown.
Data from Kano F. et al. PLoS One. 2012;7(8)
http://dx.doi.org/10.1371/journal.pone.0044127.g003
References:This product has been used in the following publications.