Description
Background:
E. coli RuvC protein (19 kDa) is a structurally specific endonuclease which binds specifically to the Holliday structure, an intermediate of recombination, at the late stage of homologous recombination and recombination repair and introduces a nick in the symmetrical point of the Holliday junction cleaving and resolving the recombinant (1, 2).
Specifications:
Product: Recombinant E. coli full-size RuvC protein without tag.
Form: 50% glycerol, 10 mM Tris-HCl (pH7.5), 2 mM EDTA, 100 mM NaCl, 5 mM mercaptoethanol
Concentration: 1.0 mg/ml (determined by BCA method)
Storage: Sent at 4℃or at -20℃ and store at -20℃ or -80℃ for longer period.
Applications:
Functional studies in vitro. RuvC cleaves recombination
intermediate at Holliday Junction.
Standard antigen for western blotting and ELISA.
SDS-PAGE
Data Link UniProtKB/Swiss-Prot P0A814 (RUVC_ECOLI)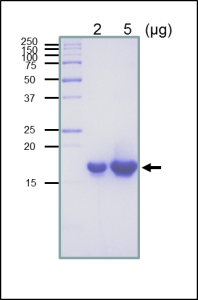 Figure. SDS-PAGE analysis of the purified RuvC protein. 19 kDa
References:  This product was used in Ref. 2 and 3.
Shinagawa H and Iwasaki H (1996) "Processing the holliday junction in homologous recombination." Trend Biochem Sci 21:107-111 PMID: 8882584
Iwasaki H et al (1991) "Escherichia coli RuvC protein is an endonuclease that resolves the Holliday structure." EMBO J 10:4381-4389 (1991) PMID: 1661673
Murayama Y et al (2008) "Formation and branch migration of Holliday junctions mediated by eukaryotic recombinases."Nature 451:1018-1021PMID:18256600
Related Products:
01-007 E.coli RuvA protein    01-009 E.coli RuvB protein  61-005 anti-RuvA antibody
61-007 anti-RuvB antibody    61-009 anti-RuvC antibody