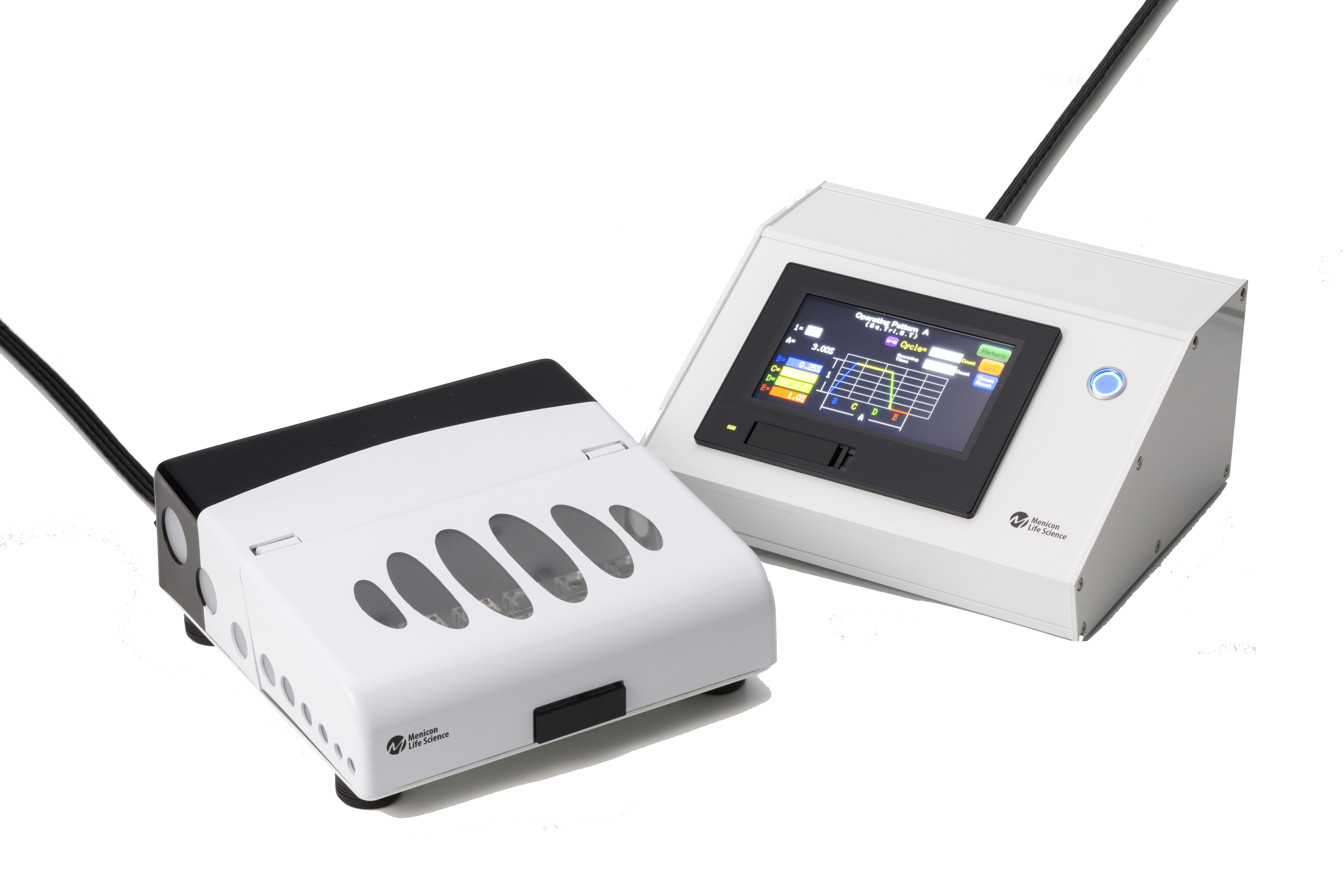 Cell Stretching Systems
Menicon's ShellPa and ShellPa Pro high-performance mechanical cell strain instruments and cell culture chambers allow researchers to explore the impact of mechanical cell strain on cells in culture. Mechanical stress applied to the cells better simulates a natural dynamic physiological environment.
Use ShellPa and ShellPa Pro to investigate:
Bone, muscle, cartilage, ligaments & tendons
Cardiovascular system
Cell adhesion, division, growth & cytoskeletal rearrangement
Stem cell proliferation & differentiation
ShellPa Mechanical Cell Strain Instrument
The mechanical stresses are closely related to cell proliferation and differentiation or tissue degeneration and development. Additionally, disease processes such as osteoporosis, cancer metastasis, skin disorders and muscle degeneration share a loss of tissue structure, integrity and mechanical transduction. ShellPa, the mechanical cell stretch system from Menicon Life Science, is an instrument for cell culturing that has been developed to replicate a dynamic environment inside the human body. This system is pneumatically driven by an air compressor. It is expected that cell culturing under the mechanical stress provided by this system can bring more biologically and physiologically realistic cell responses compared to a conventional static cell culturing without mechanical stress.
Features:
The stretch frequency and stretch ratio (stretch pattern) are easily controllable.
Stretch chambers are made with silicone (polydimethylsiloxane, or PDMS) and can be used with this system after being coated (e.g. fibronectin).
Lightweight and compact
Fits in standard laboratory incubator
Stretch frequency: 1-120 cycle(s)/min
Stretch ratio: 2, 4, 5, 6, 8, 10, 12, 15 and 20%
Use up to 6 stretch chamber simultaneously
Removable stretch chambers holder
Controller clearly indicates the accumulated operation time
Download : Brochure for ShellPa System
Recent publications:
Gangoda, S., et al. "Pulsatile stretch as a novel modulator of amyloid precursor protein processing and associated inflammatory markers in human cerebral endothelial cells", Scientific Reports, volume 8, Article number: 1689 (2018)
Grave, K., et al. "ANGIOTENSIN-(1-7) IMPROVES ENDOTHELIAL FUNCTION AND THE DEVELOPMENT OF ATHEROSCLEROSIS THROUGH THE MAS RECEPTOR."Journal of Hypertension 34 (2016): e24.
Dalbeni, A., et al. "LYCOPENE INCREASES NITRIC OXIDE BIOAVAILABILITY AND INHIBITS ENDOTHELIAL CELLS MIGRATION."Journal of Hypertension 34 (2016): e24.
Gangoda, S. V. S., et al. "PULSATILE STRETCH ALTERS EXPRESSION AND PROCESSING OF AMYLOID PRECURSOR PROTEIN IN HUMAN CEREBRAL ENDOTHELIAL CELLS."Journal of Hypertension 34 (2016): e24.
Urbanski, K., et al. "PERIVASCULAR T REGULATORY CELLS AND ENDOTHELIAL DYSFUNCTION IN HUMAN ATHEROSCLEROSIS."Journal of Hypertension 34 (2016): e24-e25.
Thal, Serge C., and Winfried Neuhaus. "The blood–brain barrier as a target in traumatic brain injury treatment."Archives of medical research 8 (2014): 698-710.
ShellPa Cell Strain Products: